STUDY WITH EUBA ONLINE: VIRTUAL WINTER SEMESTER AND SUMMER SEMESTER
YOU ARE WELCOME
We are ready to welcome you as a new online student of the University of Economics in Bratislava (EUBA), Slovakia. The corona measures have a huge impact on higher education, therefore, our University will provide you with courses ONLINE. You will be able to experience a new format of learning through distance learning during the online winter and summer semester 2020/2021.
GET TO KNOW OUR CAMPUS ONLINE
EUBA PROMO VIDEO : https://www.youtube.com/watch?v=KggjZRaC8cM

PHOTO GALLERY FROM OUR EVENTS : https://euba.sk/en/aktivity-a-media/gallery

HANDBOOK FOR INCOMING STUDENTS: Handbook
4 MAIN POINTS WHY TO STUDY AT EUBA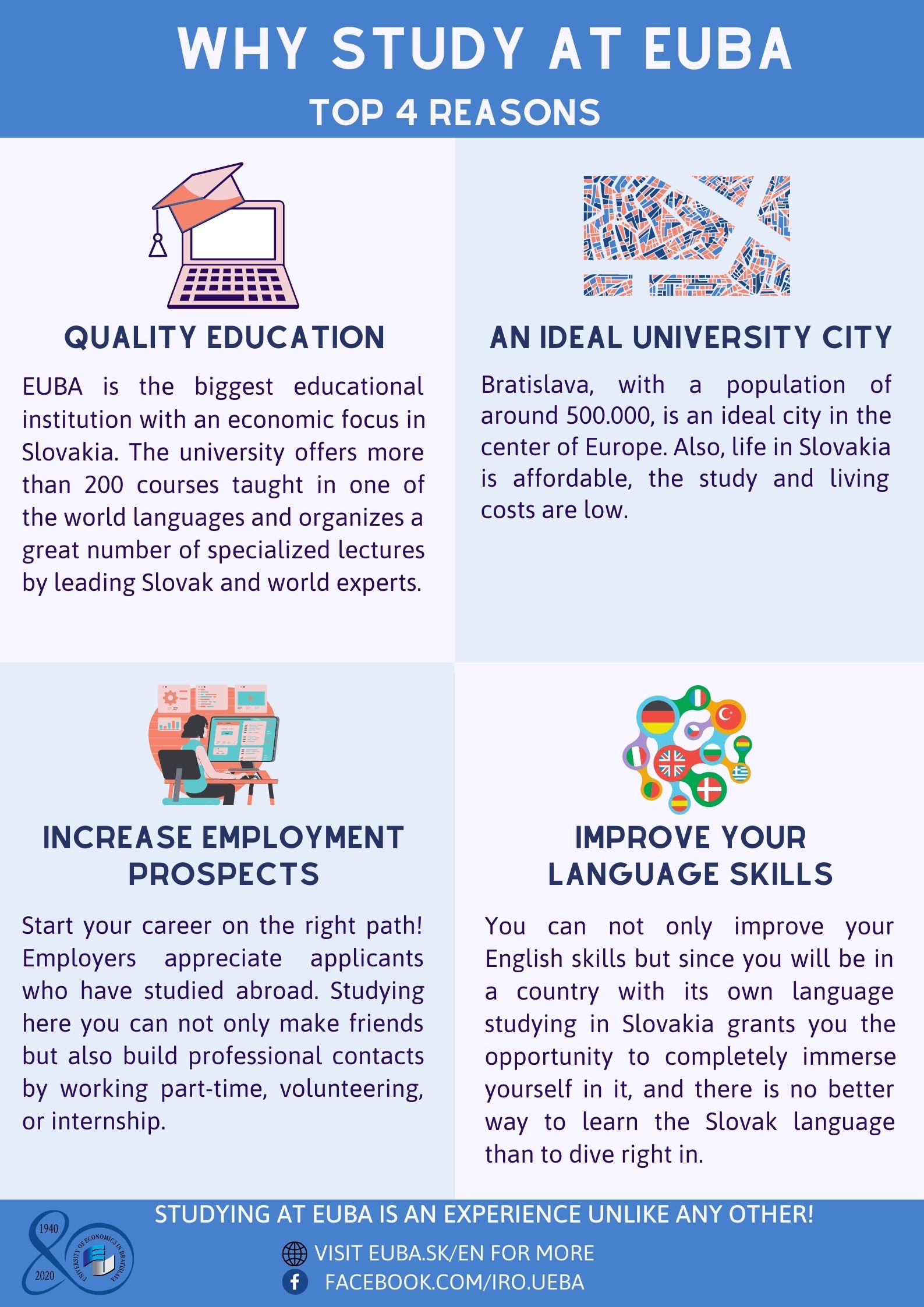 WELCOME WEEK
September 21, 2020, at 10:00 through MS Teams, the link will be sent to each of the students individually;
Individual electronic communication (teacher <-> student): September 28. 2020 – October 2, 2020 due to the course schedule;
Registration for courses: September 14, 2020 – September 25, 2020;
Start of classes: from October 05, 2020 till December 18, 2020;
Exam period: December 21, 2020 – February 05, 2021.
ONLINE WINTER SEMESTER
Please see below the schedule of the academic year:
SCHEDULE OF THE WINTER and SUMMER SEMESTER 2020/2021
| 2020/2021 | Winter semester | Summer semester |
| --- | --- | --- |
| Application deadline | 15.07.2020 | 30.11.2020 |
| Welcome week | 21.09.2020 | 08.02. – 12.02.2021 |
| Start of classes | 05.10.2020 | 15.02.2021 |
| End of classes | 18.12.2020 | 14.05.2021 |
| Exam period/End of semester | 21.12.2020 – 05.02.2021 | 17.05.2021 – 02.07.2021 |
| International Study Fair | | 09.03.2021 |

SCHEDULE
Schedule for online virtual winter semester
All the important information concerning the courses can be found here: https://euba.sk/en/international-relations/incoming-students/catalogue-of-courses
EUBA E-MAIL
You have already received your personalized EUBA e-mail with PASSWORD – check your inbox or spam. Teachers will communicate with you solely via this email. You will receive the syllabus of each course with all of the instructions before October 05, 2020 or within the first week of online semester.
MORE INFORMATION
We are happy to help you with any questions you might have. Please contact us at incoming@euba.sk
COVID-19 UPDATE IN SLOVAKIA
All of the important and up-to-date information about COVID-19 disease and measures taken by the government of the Slovak Republic to limit the spread of the disease can be found on the website: https://korona.gov.sk/
Updated rector's measures at the University of Economics in Bratislava on the current situation can be found on the following link: https://euba.sk/en/koronavirus
APPLY FOR SUMMER SEMESTER
If you are thinking about coming to Slovakia #Good Idea Slovakia - it's a right choice for you!
Contact your university coordinator till November, 15th, 2020.
Application deadline is till November, 30th, 2020.
FOLLOW US ON SOCIAL MEDIA TO SEE OUR LATEST UPDATES
MORE INFORMATION FOR PARTNERS
If you want to nominate your students till November 15th, you can send us the nomination to incoming@euba.sk with the following information:
Erasmus+ code of the university (only EU countries, including Turkey),
Name and surname,
Gender,
Student nationality,
Date of birth,
E-mail address,
Period of exchange (Summer/Winter).
For more information click here.